NMSA Observes World Maritime Day in Style - Papua New Guinea National Maritime Safety Authority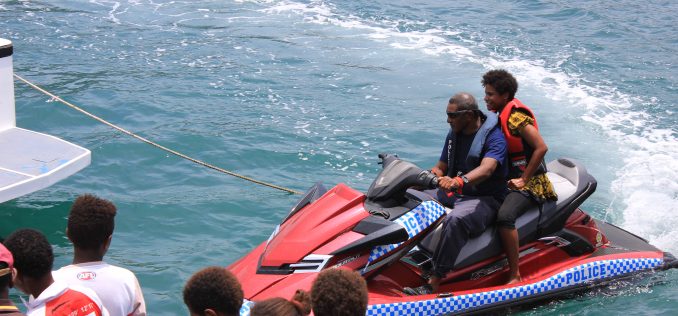 The National Maritime Safety Authority's (NMSA) World Maritime Day commemoration was celebrated in style with its stakeholders displaying their products and services to the general public.
The Authority organised a one-day exhibition last Thursday (28.09.2017) at the HMPNGS Basilisk Naval Base which showcased several interactive activities ranging from a theatre screening small craft awareness videos, plus community awareness displays, rescue coordination, Navigation AID information to small craft safety demonstrations  conducted alongside the jetty.
NMSA's stakeholders of Water Police, PNG Customs, Consort, PNG Ports Corporation Limited, HMPNGS Basilisk Naval Base, NAQIA, P&O Maritime, National Fisheries Authority, Pacific Towing, National Fisheries Authority (NFA), Ports Services & Ela Motors also put up commendable displays on the day.
The highlights were the PNGDF Naval Base demonstrational drills and inspection of the two landing crafts alongside the wharf, ferrying of the public on NMSA's Rescue & Search boat, NFA boat and Water police boat including its jet ski rides which the children who were on school holidays really enjoyed themselves.
The World Maritime Day is an annual Maritime event which NMSA observes.
Every year International Maritime Organisation (IMO) celebrates World Maritime Day, which is used to focus attention on the importance of shipping safety, maritime security and the marine environment and to emphasis a particular aspect of IMO's work.
The World Maritime Day theme for 2017 is "Connecting Ships, Ports & People."
​"Connecting Ships, Ports and People" has been selected as the World Maritime Day theme for this year. The theme was chosen to provide an opportunity to focus on the many diverse actors involved in the shipping and logistics areas.
The maritime sector, which includes shipping, ports and the people that operate them, can and should play a significant role helping Member States to create conditions for increased employment, prosperity and stability ashore through promoting trade by sea; enhancing the port and maritime sector as wealth creators both on land and, through developing a sustainable blue economy, at sea.
World Maritime Day 2017 is formally celebrated at IMO on 28 September 2017. Member States and other entities are invited to celebrate with activities in the same week, and throughout the year.
The aim of the 2017 theme is to build on the World Maritime Day theme for 2016, "Shipping: indispensable to the world", by focussing on helping IMO Member States to develop and implement maritime strategies to invest in a joined-up, interagency approach that addresses the whole range of issues, including the facilitation of maritime transport, and increasing efficiency, navigational safety, protection of the marine environment, and maritime security.
In this way, IMO will be contributing to achieving the United Nations' Sustainable Development Goals) which are a broad response to the challenges facing the world today – increasing world population; climate change; threats to the environment; unsustainable exploitation of natural resources; threats to food security; societal threats posed by organized criminals and violent extremists; and instability leading to mixed migration.
Ultimately, more efficient shipping, working in partnership with a port sector supported by governments, will be a major driver towards global stability and sustainable development for the good of all people.
NMSA's General Manager/CEO, Mr Paul Unas who officially closed the event was happy to see the turn out of the stakeholders who participated at the event.
He said: "This is an indication that the Maritime Industry will work in partnership with NMSA as together we can implement IMO Conventions in line with our respective organisation's objective which complements this year's World Maritime Day theme of "Connecting Ships, Ports & People. NMSA is committed to towards implementing the IMO Conventions aimed at enhancing marine safety and security".