Kalibobo Lighthouse is iconic in PNG - Papua New Guinea National Maritime Safety Authority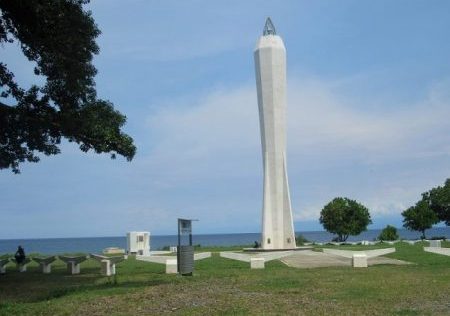 The Coastwatcher's Lighthouse (Kalibobo) in Madang is one of the World's most renowned landmarks.
It is one of the many landmarks such as Pyramids of Egypt, the Eiffel Tower in Paris (France), the Statue of Liberty in New York (United States of America), Great Wall of China, the Sydney Opera House, etc.
The National Maritime Safety Authority (NMSA) as the custodian of the Coastwatchers' Lighthouse gave a facelift, restored power to the iconic monument, and handed on 23 April 2016 to the Committee chaired by NMSA's Officer In-Charge, Carl Kamang of the field office in Madang.
Despite numerous appeals to the general public and visitors not to temper with the iconic monument or even to be responsible with their garbage, our attitude still hasn't changed.
The owner of Melanesian Tourist Service (MTS), Sir Peter Barter has gone out of his way and at his own expenses to have two (2) signs engraved in Cairns, Australia, which outlines the significance of this monument, conveying to the general public sense of appreciation and emphasized on  looking after the lighthouse and keeping the area clean and liter free.
An appeal was made to the Madang Chamber of Commerce (MCC) through its president, Mr Kevin Murray by Mr Kamang in October 2016 and the outcome was positive with Ela Enterprise Limited donating three (3) bin stands while Farmset Limited donated three (3) garbage bins/drums.
Mr Kamang said: "Now that the garbage bins are provided, we reiterate that all visitors and general public to show some level of responsibility in the way garbage are disposed. I would also like to thank Ela Enterprise and Farmset for their kind donation to support a worthy cause to maintain the image of the province as Beautiful Madang."
He said: "Coastwatchers' Lighthouse is one of the World's most renowned iconic and become instantly recognizable in the country and particularly the people of Madang. Therefore, let us all do our bit in ensuring that the landmark retains its iconic status and our symbol of pride and identity."
On behalf of the Committee, Mr Kamang acknowledged MTS and Coastwatchers' Hotel for their ongoing upkeep of the Coastwatchers' Lighthouse by ensuring lawn is trimmed and the surrounding area kept clean.